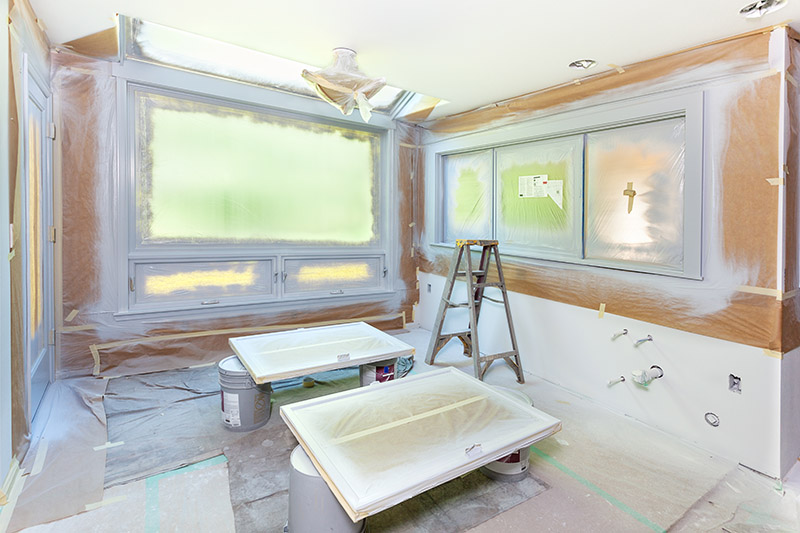 Although many homebuyers claim they want a move-in ready property, they are often tempted by the lower prices of distressed homes on the market. It's not uncommon for buyers to express a preference for homes that require little or no work, yet still find themselves drawn to older, more charming properties, larger homes, or those located in desirable areas, all of which may need repairs. In fact, a recent survey of first-time homebuyers found that 54% considered finding a move-in ready home as "very important," while another 33% described it as "somewhat important."
However, what if purchasing a property in need of rehabilitation meant gaining access to the home of your dreams? A home that you can see yourself living in for years to come, without the added expense and inconvenience of having to move again in the nearby future? Many buyers may feel hesitant about pursuing this type of real estate purchase, as they may not have the funds available to cover the costs of repairs or updates on top of their initial mortgage.
Fortunately, renovation loans offer a potential solution to this problem, as they allow buyers to finance the cost of repairs and updates as part of their first mortgage loan. Additionally, homes that require rehabilitation are often available at a significant discount compared to move-in ready properties, particularly in areas with low inventory.
There are a variety of renovation loans currently available, making it possible for buyers to say "yes" to their dream home, even if it needs some work.
FHA STANDARD 203(k) REHABILITATION MORTGAGES
FHA Standard 203(k) Rehabilitation Mortgages are one of the most popular types of renovation loans available. These loans allow homebuyers to finance the cost of repairs and renovations, as well as the purchase price of the property, all in one mortgage.
The loan is backed by the Federal Housing Administration (FHA), which means that borrowers can often secure more favorable loan terms and interest rates compared to other types of loans. To qualify for an FHA Standard 203(k) Rehabilitation Mortgage, the property must be a one-to-four-unit dwelling that has been completed for at least one year.
The loan can be used to address a wide range of repairs and renovations, from minor cosmetic updates to major structural repairs.
BENEFITS OF THE FHA STANDARD 203(k)
Complete the rehabilitation quickly.
To ensure timely completion of the rehabilitation process, homebuyers may prefer a Standard 203(k) Rehabilitation Mortgage over owner-financed rehabs, which can take several years to complete one project or room at a time as funds become available. With the Standard 203(k) program, the funds are readily available to cover the extent of the repairs, allowing buyers to enjoy their dream home in a matter of weeks or months instead of years.
Live elsewhere until the work is complete.
Additionally, the program offers the option to include the cost of alternate housing for up to six months, providing homeowners with the convenience of living elsewhere until the work is complete.
Refinance options are available.
The FHA Standard 203(k) Rehabilitation Mortgage is not only a purchase program, but it can also be used as a refinance option for homeowners seeking to finance significant improvements to an existing property.
Save a purchase deal.
Moreover, the program can save a purchase deal if an unexpected need for significant or structural repairs is discovered during an appraisal.
FHA LIMITED 203(k) REHABILITATION MORTGAGES
With the Limited 203(k) loan program, homebuyers can finance the purchase (or refinance) of a home, as well as repairs or renovations, all with one mortgage loan. This program is a smaller version of the FHA Standard 203(k) loan and allows for up to $35,000 in rehabilitation costs. It is designed for simpler repairs, remodels, and upgrades but not major or structural renovations.
According to the National Association of REALTORS®, the lack of inventory in many parts of the US is prompting buyers to purchase more expensive homes as prices rise. On average, it takes buyers about 10 weeks to find a suitable home. However, by considering a home's potential rather than its current condition, simple updates such as updated kitchen cabinets, a fresh coat of paint, or a new patio can turn a property into a more attractive option and expand the limited inventory.
EXAMPLES OF ELIGIBLE PROJECTS
Repair/Replacement of roofs, gutters and downspouts
Repair/Replacement/upgrade of existing HVAC systems
Repair/Replacement/Upgrade of plumbing and electrical systems
Repair/Replacement of flooring
Minor remodeling, such as kitchens, which does not involve structural repairs
Painting, both exterior and interior
Weatherization, including storm windows and doors, insulation, weather stripping, etc.
Purchase and installation of appliances, including free-standing ranges, refrigerators, washers/dryers, dishwashers, and microwave ovens
Accessibility improvements for persons with disabilities
Lead-based paint stabilization or abatement of lead-based paint hazards
Repair/replace/add exterior decks, patios, porches
Basement finishing and remodeling, which does not involve structural repairs
Basement waterproofing
Window and door replacements and exterior wall re-siding
FANNIE MAE HOMESTYLE® RENOVATION MORTGAGES
With the Fannie Mae HomeStyle® Renovation Mortgage, borrowers can finance both the purchase of a home that requires renovations or refinance their existing home and include the necessary funds for renovations in the balance of the new loan.
Unlike other loans that are based on the present value of the property, the HomeStyle® Renovation Mortgage is based on the "as-completed" value of the home. This loan is perfect for clients who want to renovate their current home or buy a fixer-upper, but whose situation doesn't meet the guidelines of the FHA rehab loans.
The HomeStyle® Renovation Mortgage is very flexible and can accommodate a wide range of scenarios, making it a great option for those who have a vision of turning an old or distressed property into their dream home.
VA RENOVATION LOAN
The VA Renovation loan combines the advantages of VA loans with the flexibility to finance cosmetic and minor repairs. This loan is an ideal option for borrowers who own a home with equity but have limited funds to cover minor renovations.
What's more, this product is not just limited to purchase transactions – it can also be used for refinancing. As consumers continue to seek innovative financing options, the VA Renovation loan can help mortgage professionals cater to a niche market that may not have access to other loan products.
Have questions? Give us a call! One of our mortgage specialists would be happy to answer all of your questions.
Get started today!
Fill out the questionnaire on this page to start a discussion about your mortgage needs today!